Update (7/28/17): Wow, folks - it's been less than a week and our ranking is UP. We are now on the front page! I guess showing you how an SEO Agency in San Jose ranks for "SEO Agency San Jose" truly is the the best example of the work that our SEO professionals are doing.
As of right now according to Google, I rank on the second page of Google's SERPs for the phrase Local Search Agency San Jose. Almost on the front page.... but not quite. Here is how to fix that!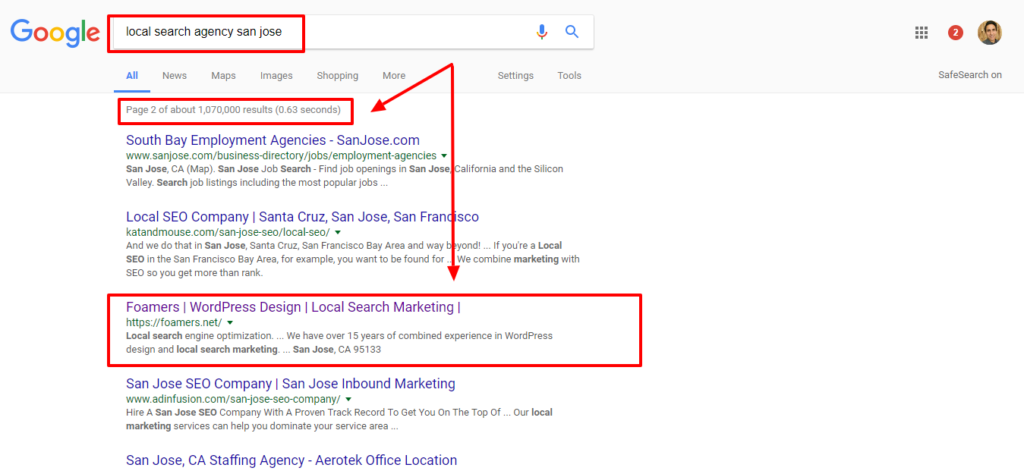 How a Local Search Agency in San Jose Ranks for "Local Search Agency San Jose" on Google.
For over 10 years our biggest passion has been to help clients drive sales through local search engine optimization. We do that everyday! And Google Search Console is a tool that helps me identify low hanging fruit and reduce some workload. For example, in my case, according to Google Search Console "Local Search Agency San Jose" showed up as a second page result.
Also, a quick search showed me that we are 12th organically for the term Local Search Agency San Jose.
Mehhhh not too shabby I guess. But I needa do better. This blog is my attempt at gradually moving up to the front page. Ok so here's what we're gonna do:
1. Identify low hanging fruit (I use Google Search Console everyday)
2. Write a blog using your keyword. Notice how my title is Local Search Agency San Jose.
3. Link from your home page to your blog. That'll pass almost 70% of your home page authority and juice to your blog. And all of it without weakening the authority of the home page.
4. Don't forget on-page SEO best practices: And that means incorporating your targeted keyword into the blog title, URL, headers, and body content (especially near the top)
TODAY'S DATE: Tuesday, July 25, 2017
I will check back in about 1 months so we can talk. In the meantime, you are welcomed to check it out. Google: Local Search Agency San Jose.