Yesterday we told you that Yelp is sending out 'Messaging disabled' notices to businesses that do not respond to Yelpers within 30 days. Today I'll teach you how to Re Enable Yelp's Messaging Feature after it's been removed from your listing.
Does Yelp even matter?
Business directories rank very well on Google. If you search for a bookkeeper near you, there's a good chance Yelp is going to pop up at top or near the top of Google's search results. Yelpers will click on their link because they trust it, and they're going to look at reviews and whatever else intrigues them.
Many local businesses don't realize the importance of managing their business listings until they lose revenue. When's the last time you checked all of the online listings for your business? Is that information accurate and up to date? We can help.
Yelp lets you message any business for any reason, day or night.
This facility is basically a link that customers can click to send your business a message. If you do not reply to the message after a certain time Yelp removes the feature from the listing.
So, each time a customer messages you through that feature. Yelp will send you am email with the message to alert you that a message was received and with instructions as to how to reply. And, if you do not reply within the allotted time (30 days, to be exact) Yelp will take away the 'Request a quote' button, and customers won't be able to message you—they'll only be able to arrange a call with you via the standard cell phone.
Here's what the notice says: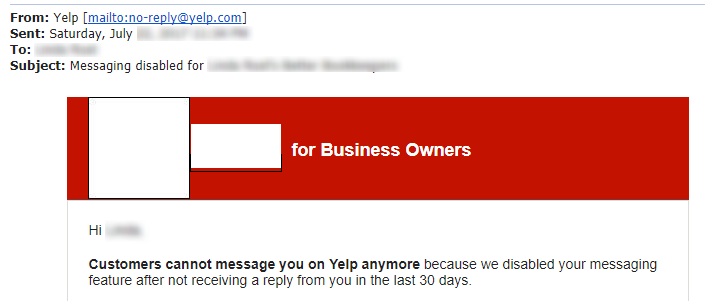 ANSWER ME!
Responding promptly is recommended because Yelp gages the response time, response rate and makes that information available to the public.

How to Re Enable Yelp's Messaging Feature After its Been Removed
To re-enable messaging, download the Yelp app, open it, click inbox and leave a reply. Of course if it's been over 30 days, it might be wise to respond to those messages by clicking the 'I've Already Replied' button. That will signal Yelp that you have already reached out to the customer in some other way.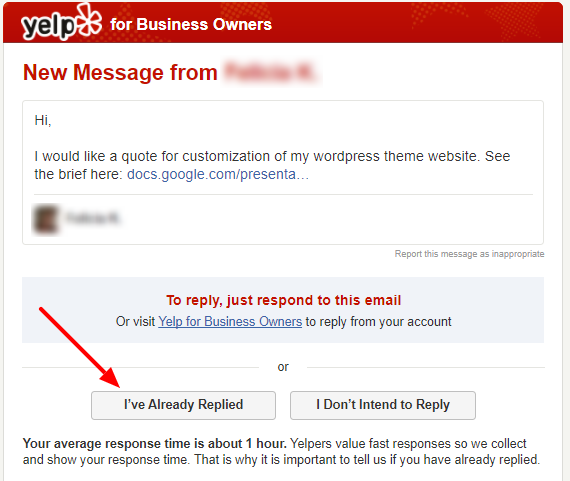 Here is the solution:
A - Download the Yelp app.
B - Sign in with your email (the same email that Yelp used to reach you). If you do not remember your password, you can simply reset the password by clicking on "Forgot my password", and entering your email.
Then you will get an email from Yelp with steps for resetting the password. After you have reset the password, open the app again and login with new password.
C- Open your inbox and respond to all messages.
And that is how you re-enable Yelp's messaging feature. In the future you will also want to keep your eyes peeled for any customer message email from Yelp.
Is your organization easily found online by potential customers
We are a Yext Certified Partner and have been helping businesses get listed for 14 years! Our PowerListings Network has over 50 of the most prominent and innovative sites, maps, and apps available. And we reach 220 million customers each month. Are you managing your local search listings properly? We can help.