if your seriously thinking about doing Craigslist let us design for you a custom Craigslist ad that is sure to generate more leads! Along with the ad, we can also help you with your web design.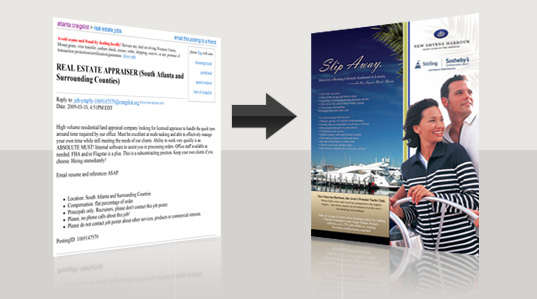 The process
A -To get the most out of a Craigslist ad, you simply need to contact us and give us an overview of the kind of ad you would like to feature.
B - Based on your requirements we would provide you with a custom Craigslist ad with images and send it to you for your approval. And unlike other companies, we gratefully welcome your feedback (comments, insults) and work hard on the modifications for your complete satisfaction.
C - Once your ad is ready we will show you how to post it or even post it for you if need be.
Why Craigslist?
With an estimated 10 million visitors and 4 billion page views each month Craigslist ads offer you the incredibly profitable opportunity of showing your ad to literally thousands of targeted customers. If you couple this remarkable service with our creative craigslist ad designs, you are sure to stand out more, look more professional and get more response.
User testing reveals that good graphics design is essential to improving conversions and that having the right looks lends credibility to your brand. Besides that, a plain text ad is just that: plain. Thus with an unparalleled service and a host of esteemed designers, we can change the look of your plain text ad into a flashy piece of advertisement.