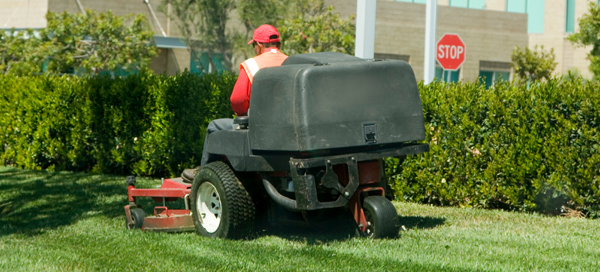 A lawn mower is a fairly inexpensive peace of equipment, yet no other power equipment is as essential to landscaping as is the lawn mower. You need to have a lawn mower that will consistently get the job done without any hassles throughout the lawn mowing season. And you should also know how to use the lawn mower to your best advantage. Similarly being online is not an option for your business today, it is vital to its growth.
A website not only establishes your presence as a professionally run business, it's also where your customers expect to find you. Yet so many lawn businesses do not have a good searchable website, or worse they have no website at all!
So whether you want to re-design your website, or whether this is your first online presence, the following list of links will help you get your lawn care business ready for lawn mowing season
1 - The Fact That Your Competitor Has A Website Means What?
It should be obvious but maybe you should read this anyway...
2 - 13 Creative and Colorful Themes for Your Lawn Care Website
Image Is Everything!!!
3 - How to Show Up on Google's Search Engine Even if You Don't Have a Website?
Well you can and it's FREE too!
4 - Lawn Care Marketing and Google 101 - Episode 1
Hands on tips to help you get more lawn care customers to your website.
5 - Lawn Care Marketing On-Page SEO – Episode 2
How to setup your meta tags title tag description keywords etc.
6 - Lawn Care Marketing – Creating and submitting a Sitemap (Episode 3)
How do I create and submit my sitemap to Google?
7 - Make Your Landscaping Website Thrive How?
Guide to keeping your lawn care customers interested and engaged...
8 - 5 Social Media Tools to Grow Your Lawn Care Business
Even if you don't spend very much time online, you can do this...
9 - Customer Testimonials – The Power of Having Others Tell Your Story.
How using customer testimonials is a powerful way to overcome skepticism and concern that potential customers might have.
10 - The 5 Pillars of Creating a Successful Website
11 - GopherHaul Lawn Care Business Advertising & Marketing Discussions
Gopher Forum
12 - 40 Free Lawn Care templates available to all HostGator Web Hosting customers.
FREE Tools to Showcase Your Portfolio
An online portfolio is needed for sure. Not because you will get that many visitors necessarily, but because it is an easy reference point for a potential lawn care customer.
13 - Carbonmade
Great site to display your portfolio online.
14 - JonDesign's SmoothGallery
15 - Supersized – Full Screen Background/Slideshow jQuery Plugin
16 - More Amazing jQuery Image Gallery/Slideshow Plugins Plugins
Lawn Care Marketing Email Newsletters campaigns
17 - MailChimp
MailChimp makes it easy to send email newsletters to your customers, manage your subscriber lists, and track campaign performance.
18 - Constant Contact
Constant Contact allows you to keep your lawn care customers informed with Email Marketing, Online Surveys, Event Marketing, Email Newsletter Templates and much more..
Other marketing tools for your lawn business
19 - Custom Craigslist Ad Design
With an estimated 10 million visitors and 4 billion page views each month Craigslist ads offer you the incredibly profitable opportunity of showing your ad to literally thousands of lawn care customers.
20 - Advertise your business on Google
No matter what your budget, you can display your ads on Google and pay only if people click your ads.
Everything you just read is very simple very easy to implement yet, for most landscaping company owners who have been in business for decades, venturing into the web may be an intimidating experience, or it may be that you are, as one client put it, not very computer orientated – that's where we come in!
Foamers is committed to helping our clients achieve the highest return on their investment. Should you wish to acquire more information about our landscaping template customization services simply get in touch and tell us what you think.
So there you have it, you now know one of the most important steps you need to take to start making your online business thrive. In the upcoming weeks we will be continuing this discussion, under the heading, lawn care marketing, and show you how you can launch your very own landscaping website and have it work for you 24/7.
If there's anything you wish to add on the subject of lawn care marketing, questions, comments, please feel free to share your thoughts and comments and keep checking back for more updates. See you real soon!